Results center
Browse reports, presentations, media files and
key
performance
indicators
.
Check it out
Recent news and current reports:
15-11-2021

CR 21 – 2021 start of discussions on new Social Agreement

Download PDF 1
Since 1998, Orange Polska has been listed on the Warsaw Stock Exchange. It is included in the WIG 20 index and the responsible companies index – WIG-ESG (formerly Respect Index).
Since 2002, Orange Polska has been a member of SEG (the Association of Stock Exchange Issuers).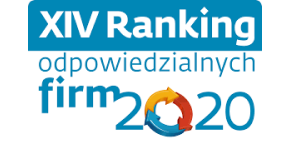 Orange has been present in the Ranking Odpowiedzialnych Firm  (Responsible Companies Ranking) since 2009, where it ranks high every year (2018 – 3rd place, 2019 – 2nd place).
Orange Polska has been receiving the Top Employer certificate invariably since 2015.
Would you like to receive e-mail updates?
Stay informed about newest reports, conferences & events.
Sign up