Social and digital development
We want everyone, regardless of their residence, age, skills or ability, to be able to use of the opportunities offered by the digital world.
More information
Clean environment
We implement our business goals with respect for ecology rules and in harmony with the environment.
More information
Engaged team
We build culture of co-operation in which all employees feel respected, and can freely pursue their professional goals and life passions.
More information
As a listed company, we provide reliable information to our investors and the financial community and comply with the Best Practice for WSE Listed Companies 2016.
We ensure that our investors receive reliable and comprehensive information about the Company. Therefore, in addition to financial data, we have been publishing CSR data for more than a decade.
The needs and expectations expressed by our stakeholders have been a key element in the development of our CSR strategy. Through dialogue with our employees, customers and business or social partners we can see our business form a different perspective and set out new social and environmental challenges.
We want our relations with our suppliers and business partners to be based on transparent principles and mutual commitments to ethical standards. We are committed to building good long-term relationships. On average, we co-operate with 4,500 suppliers annually.
Our values and ethical principles have been enshrined in the Orange Polska Code of Ethics, which provides our employees with comprehensive knowledge about the ethical behaviour expected by our shareholders, customers and business partners.
View Orange Polska Code of Ethics
Our Compliance Programme has been a major element of the Orange Polska's corporate governance.
We are interested in the changing world. In order to monitor the on-going changes and set new technology trends we have created Orange Labs. Our R&D Centre is part of the international Orange Labs network.
WIG-ESG Index
Since 2010, Orange Polska has been included in the WIG-ESG Index (formerly Respect Index) of socially responsible companies.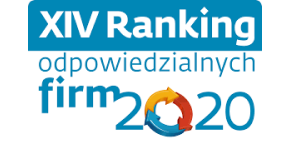 Ranking of Responsible Companies
Since 2009, Orange Polska has been present in the Ranking of Responsible Companies, in which it ranks high each year (3rd in 2018, 2nd in 2019).
CSR Golden Leaf
Every year since 2012 we have received the CSR Golden Leaf, the highest distinction in the CSR ranking by Polityka weekly.
15 years of co-operation towards sustainable business development
Orange Polska has been honoured by the Responsible Business Forum for 15 years of co-operation towards sustainable business development.
Top Employer 2020
Orange Polska has received the Top Employer certification continuously since 2015.
Green Frog Award
Orange Polska won the Deloitte Green Frog Award for the best integrated sustainability report in the CE region.